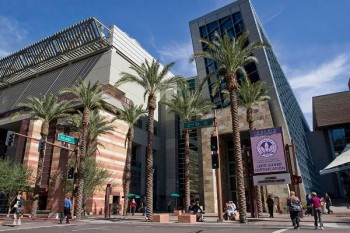 Phoenix Convention Center
The Phoenix Convention Center is four miles from Sky Harbor International Airport which provides nonstop service to Phoenix from 80 US and 20 international destinations.
The Phoenix Convention Center opened in 1972. It is located in downtown Phoenix, Arizona. It hosts national and regional conventions and trade shows as well as consumer events and theatrical productions. Every year thousands of people travel to Phoenix to visit the Convention Center.
Throughout the years Phoenix Convention Center has grown, by attracting high technology businesses, transplants from other states, and an increase in tourism. Today, it is one of the top 20 convention venues in North America.
It offers more than 900,000 sq. ft. of meeting and exhibit space – a 312,500 sq. ft. main exhibit hall and a 46,000 sq. ft. ballroom. There are 99 meeting rooms, 61 loading docks, exhibit halls with pre-scored floors and an Executive Conference Center – all complimented by a 2,312 seat Symphony Hall and the 1,364 seat historic Orpheum Theatre.
The Phoenix Convention Center is just a short walk from popular downtown eateries, live music, professional sports, art museums and more. Roosevelt Row in downtown was named one of the 10 Best City Arts Districts in America by USA Today and the Phoenix Convention Center is right smack in the center of it all.
Phoenix Convention Center
Address:
100 N 3rd St, Phoenix, Arizona 85004
Phone:
800.282.4842 | 602.262.6225
www.phoenixconventioncenter.com